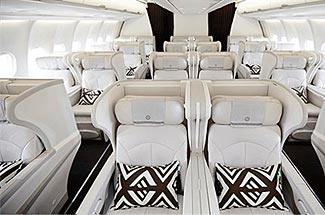 I wasn't sure what to expect when flying Fiji Airways from Auckland in New Zealand to their home airport of Nadi in Fiji and then on to Los Angeles.
Although I've been to Fiji a number of times, I'd only flown the airline once before, back when it was known as Air Pacific and largely managed by its 49% shareholder, Qantas.
For many years Qantas did all they could to prevent it from becoming another of the many 'island airlines' that spring up and subsequently fail.  But in 2012, Fiji's troubled government (coups, constitutions and crises galore) decided it would re-nationalize the airline, taking Qantas' shareholding, and renaming itself more jingoistically as Fiji Airways.  February this year also saw the resignation of the airline's American born CEO (a replacement was announced in July – the current CEO of Jazeera Airlines).
On the positive side, the two flights were to be on the first of the airline's new A330-200s.  Tiny Fiji Airways will end this year having retired/replaced its 747s with A330s, and a total fleet of three A330s and four 737s.
Things got off to a bad start in Auckland.  I checked in for the flight and went to 'their' lounge (actually the lovely Qantas lounge), and was told that they'd announce when we should go to board the plane.  Some lounges announce boarding calls, others don't; with Auckland being a lounge that does announce boarding.
When the expected time for boarding had come and gone with no announcement, I went to the desk and asked if the flight was running late.  The receptionist checked the computer, looked surprised and said 'It is already boarding, but they never called to tell us to ask business class passengers to make their way to the plane'.  So I went off to the plane on my own initiative.
While walking through the terminal, an announcement blared through the entire international terminal 'Would the last five passengers on FJ 410 to Nadi please hurry to board the plane.  Everyone else has boarded and you are delaying the flight's departure.'
I got to the gate and was given stern looks by the employees.  I pointed out that in fact I was early rather than late, because they'd never actually called boarding in their lounge.  The check-in guy unapologetically said 'Oh yes, I forgot to do that'.  But apparently it remained my fault that I was late, and I had to do the 'walk of shame' onto the plane and have other passengers and crew members glaring at me.  As for holding up the flight's departure, the plane didn't actually close its doors or push-back for at least another 15 minutes.
Hardly a welcoming introduction to Fiji Airways, and I noticed with dry mirth the exhortation on the plane to enjoy 'Fiji time' – this being the same concept as the more generic expression of 'island time' the world over – a more lackadaisical approach to time and schedules.  But as the two flights unfolded, it became clear that Fiji time was designed only to encourage the airline's staff to do things on their own independent whim and fancy, not as a suggestion that passengers too could relax and enjoy life on their own terms.
The business class cabin on the almost brand-new A330 was very attractive, in an ivory/white layout, and with modern type 'cocoon' seats that would extend to a flat but sloped semi-bed.  The problem with sloped rather than true horizontal seat/beds is that you tend to slip down the slope during any attempt at sleeping, and regularly have to uncomfortably push yourself back up again.
Lovely big 15.4″ video monitors were handicapped by inexplicably not having the moving map flight detail display working (perhaps such accurate/exact things are anathema to the fullest expression of 'Fiji time'), and the movie selection was limited to only 12 titles, including 'popular Hindi favorites' – a nod to the 37.5% of the Fijian population of Indian descent, further restricting the number of movies of potential interest to me.   (From the mid 1940s until the late 1990s, there were more Indians than native Fijians in the country, but after the country's series of coups, designed to give more favorable treatment to native Fijians and less favorable treatment to others and in particular to the industrious Indians who ended up controlling much of the country's commerce, many Indians have left Fiji, while the population of native Fijians – and other Pacific islanders – has increased at a prodigious rate).
The flight to Nadi was uneventful, and the business class cabin only about half-full, although coach class seemed much more filled with passengers.  It was interesting to note (and tiresome) that the slightest hint of imperceptible turbulence would see the 'Fasten Seatbelt' sign activated – the pilots were even more anxious about such things than American pilots, and I'd always thought US pilots to be the biggest 'nervous nellies' of any country in the world.
As is so often the case, we had to 'prepare the cabin for landing' at a time ridiculously prior to the actual landing of the plane.  Food was meager and ordinary, and rather than being able to keep the menu (such as it was) the flight attendants were very careful to retrieve them from us (indeed, my daughter and I had to share a single menu), presumably for re-use on the next flight.
The real problems – and the quote above – were to be in Nadi and on the flight on to Los Angeles.
We were flying on frequent flier tickets, issued by Alaska Airlines.  At the time of making the booking, our business class award ticket saw us downgraded to coach class for the long (10 hour) flight from Nadi to Los Angeles, although happily we did get 'up front' for the shorter flights AKL-NAN (3 hours) and the final flight from LAX up to Seattle.  There was no adjustment to the mileage 'cost' of the ticket to reflect that two-thirds of the travel was actually in coach class, but Alaska Airlines assured me that if seats opened up, I would be eligible to upgrade to the business class seats.
The good news upon arrival in Nadi was that the flight on to Los Angeles had opened up and now had 8 unallocated business class seats in the 24 seat business class cabin.  So, only a few hours prior to departure, at which point the airline had presumably done any/all upgrading that it might do, and there were still 8 empty seats in business class.  Wonderful news.  I of course asked for our coach class seats to accordingly be swapped for business class seats.
The Fiji Airways staff seemed astonished at this suggestion.  Oh, no, 'sir', the woman said (imagine the tone of sarcasm and artificial politeness with which this honorific was pronounced).  You have a coach class seat.  You can buy an upgrade to business class, but you can't expect us to upgrade you for free.
I explained (again) that although we were indeed in coach class seating, our ticket was a business class ticket and we were entitled to business class seating.  We had paid (albeit in miles) for business class, and they had fully one third of their cabin empty.  We weren't asking for anything for free, we were simply asking for the business class seats that we were entitled to.
The woman then decided to adopt the 'It's not my department' approach.  'You're traveling on a ticket that wasn't issued by us.  Only the travel agency that issued your ticket can change it.  You'll have to speak to them.'  Needless to say, until this point, every person I'd spoken to previously at Fiji Airways had all agreed that I had an upgradeable ticket, but all had said that the ticket could only be upgraded at the airport in Nadi if space was available – a reasonable statement to make that I'd not thought to query any further each time it was made.  So here I was, at the airport, with available space, but now I was being told that the ticket could only be changed by someone else.
I explained that the 'travel agency' was in fact Alaska Airlines, and they didn't have a ticket office in Nadi, Fiji, etc etc.  This got a lot of statements where the woman kept saying '… we can't …' whereas what she should have been saying was 'I won't'.
It was at this point that she uttered the amazing line that the airline would rather fly with empty business class seats than allow us access to them.
I asked if there was anyone else I could speak to.  The answer was no, that she (a desk agent in their business class lounge) was the only person, who did 'everything' and, well, she'd already indicated her flat-out refusal to actually do anything at all.
I ran through various job titles/positions of other people who might be able to assist, all of which it appeared did not exist at Fiji Airways, until finally coming across one (route manager) that did exist, but that person was at a conference in Hong Kong.  Okay, so next I asked if I could speak to the Airport Duty Manager, and the woman told me instantly that the Airport Duty Manager was in a meeting, and it was likely to be a long meeting and she didn't know when she would be free.
And if you believe the truth of that claim, dear reader, please allow me to sell you some prime ocean-front property in Arizona.
I suggested I check back in half an hour, and the woman enthusiastically agreed that I should do so.
During the intervening time I phoned through to Alaska Airlines in the US, who not unreasonably told me that they couldn't do anything, it was up to the airline at this point because as far as they could see from their computer, the flight was full; besides which they were about to close for the night.
When I went back to resume the discussion, the woman had disappeared.  Her shift had ended.  Fancy that.
Her replacement did a good job of sounding more sympathetic, and took our boarding passes and said she'd see what she could do.  That was much better than refusing to look at the paperwork and saying that nothing could be done, so I waited in a fairly optimistic frame of mind.
Twenty minutes later she returned with them, said she'd spoken to the Airport Duty Manager, who had in turn spoken to their ticket office, and they were all unanimously in agreement that there was nothing they could (would) do at all.
Now, as you almost certainly know, any of these people could have made a couple of entries into their computer and reissued us with business class boarding passes in less time than it takes to read this single sentence.  But I was told that there was 'nothing they could do'.
I asked if I could speak directly to the Airport Manager.  I was told she refused to talk to me.
Out of options, and not wanting to make a scene that could see me stranded in Fiji, I had no choice but to give up.
Just to clarify, please understand that I wasn't asking for a free upgrade.  We'd already paid the business award price for the travel.  And I was happy to accept that my paid-for business class travel would be given the lowest priority.  I wasn't suggesting my mileage award tickets should be given precedence over people who were paying money for their business class tickets, and I never got into a discussion about the relative merits of giving courtesy upgrades to frequent fliers vs allowing my award travel ticket to get me into business class.  As best I could tell, anyone and everyone else who could be upgraded had already been upgraded, and just like the flight from Auckland to Nadi with a half empty business class cabin, the flight on to Los Angeles would also have one-third of its seats empty, making the airline's refusal to seat us in otherwise empty seats in the cabin we'd bought award travel for all the more disappointing.
So, Fiji Airways did indeed fly to Los Angeles, presumably with eight empty business class seats, while leaving my daughter and me in coach, where we got to experience the pleasures of their razor-thin seat pitch (31″) and 'Fiji Time' again.
Fiji Time included being woken for breakfast almost three hours before arriving into Los Angeles – right at the time where I'd finally managed to fitfully get to sleep, of course.  There was no reason or need to serve breakfast that early, other than perhaps convenience for the flight crew.
Fiji Time also featured the gratuitous insult of being required to get our seatbacks upright and tray tables stowed a full 40 minutes prior to our landing, and an almost 50 minute wait for our bags to appear at baggage claim (did I mention they had 'Priority' tags on them – I hate to think how long all the other people still waiting around the conveyor belt had to wait for theirs!).
The sensitivity of the pilots to turbulence was even more extreme on this flight.  Almost imperceptible tremors of turbulence not only saw the seat belt sign light up, but the flight attendants would be told to take their seats, too – something that alarmed me the first time it happened, because usually that means severe extended turbulence is about to occur, but by the third or fourth time they were sent to their seats with no turbulence following, it became more a thing of humor than of alarm.
Fiji tries to portray itself as a tropical dreamland populated by warm and friendly people.  But if the Fijian nationals employed by its state airline are any indication, that is absolutely not the case.  What sort of humanity-hating ogre forces a passenger traveling on a business class ticket to fly in coach class when there are business class seats empty and available?
For that matter, how foolish is any airline that fails to fill its premium cabins on every flight?  There's no greater gift (and no cheaper cost to the airline) than to upgrade anyone, 'deserving' or not, to business or first class.  Sensible airlines use the customer-loyalty enhancing value of their premium cabins to full effect, stupid ones don't.
I've no doubt that Fiji Airways is a great airline for their employees, friends and family, and the otherwise aloof flight crew did appear to be genuinely friendly to passengers they recognized and knew (the total population of Fiji is barely 800,000, and those who travel are a small percentage of that tiny number).  For others who are willing to accept the concept of 'Fiji time' and how it can interfere with the beginning, middle and end of your travels, it is perhaps an okay choice, and if for some regrettable reason you actually need to travel to this troubled country, be warned there's every chance that your Qantas, American Airlines or even Air New Zealand flight number might be a code-share and actually subject you to flying on Fiji Airways.
For the rest of us (other than Oprah Winfrey who apparently likes Fiji even more than she dislikes Switzerland), both the airline – and its home country – are perhaps best avoided.